Today was about quality, not quantity. While I had planned on a 30 mile ride this am, the 15 miles through the hills we're much tougher and much better for me!
I was on road at 10:15 am. app. 45 degrees. Little wind. Very sunny and an excellent day for a ride. Back into parking lot approximately noonish.
Well I did fifteen miles this morning in the scenic hills of northern Baltimore County. The Sparks neighboorhood I believe. We started out at
Sparks Elementary
and cruised through the back country. There were alot of hills. Which I knew going in but I discovered quite quickly that I am not prepared for the killer hills.
The way my legs feel right now, I'm not even sure I could get my bike over a speed bump. Anyway, that hill might not look too daunting, but behind those trees it descents for what seemed like a mile. in fact if it was 1000 feet I'd be surprised. But it was pretty big and Iam pretty inexperienced.
Anyway, there were a fair number of hills in the 15 mile ride this morning. I did ok I think. Only pooped out a couple of times. There were two hills where I had to take a break and start again. I was pleased though that I rode the bike all the way up the hill without walking it. Next time no stopping though. The first time we hit the big hill, it was a surprise. I slogged my way up it (after finding out I hadn't gotten lost) and made it to the top. My legs were much fresher. But when I suddenly recognized the
Gunpowder Friends Meeting House
I realized I was on the cusp of hitting the hill again. Anyway I made it halfway. Going up that hill my legs felt like lead and it felt like I wasn't moving at all. I imagine this gets better. Anyway, I took a short breather and got going again and made it to the top and zoomed back the school parking lot. I think knowing the hill was coming psyched me out. Either that or I was tired and not in good shape yet. One or the other.
A couple lessons picked up today. One, while I'm new to this biking thing and not super up to speed on the appropriate nutrition, I have learned that, coffee and two power bars are not the best pre-ride breakfast. I was shocked that during the ride I didn't puke. Maybe that is saved for the longer more experienced rides.
I also learned that hills are hard, but they're good. I feel much more burn than I do from my longer flat rides. The folks in Baltimore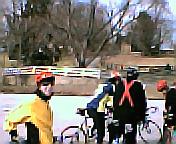 are riding on Sundays which is much more convenient for me. I think I'll do more hill rides with Baltimore. Will have me in much better shape for Tahoe.
Also I must give a huge shout out thank you to Andrea the mentor for the Baltimore team (she's in the yellow top in the photo). As you might imagine, my butt was dragging at many points during this ride and her encouragement and pointers were much appreciated. She made hammering out those hills much more doable this morning.
Finally I realized that my idea for taking pictures while I am riding is a joke. I'll keep bringing my $30 cheapo kids digital camera, but I was having to work at keeping my face from meeting the asphalt on downhills and keeping up enough speed on uphills to keep the bike upright to worry about snapping a few shots. It sounded like a good idea though.
I hope to be on the bike tomorrow night, probably doing laps around Haines Point or maybe zipping up and down the CCT or the
Mt. Vernon trail.